PADI Divemaster Program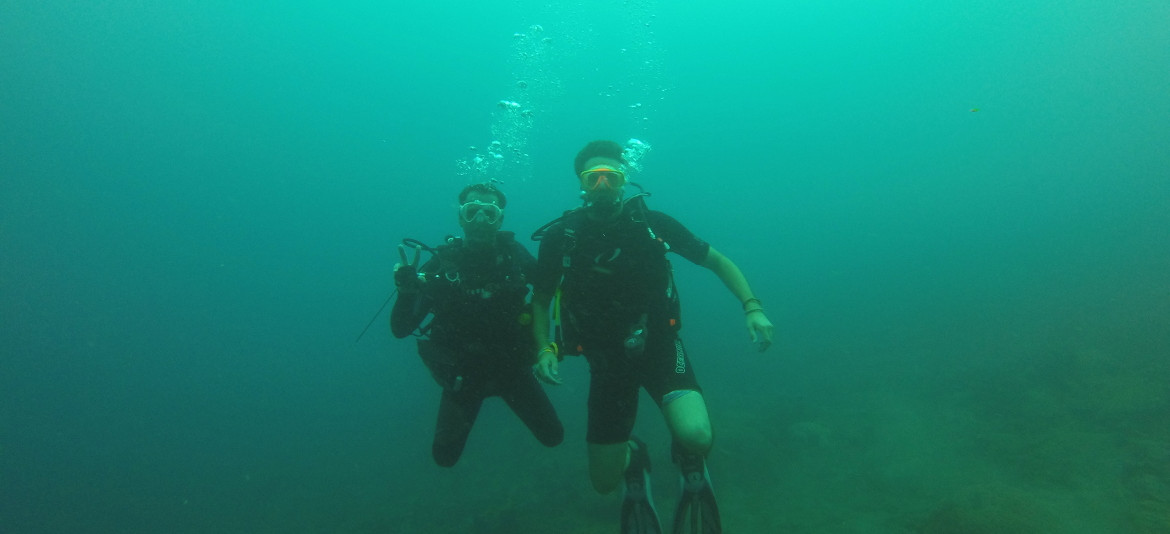 Duration: 1 Days (approx.)
Product code: PADI DM - DCPX001
GO TRAVELLING & DIVING PLUS GET PAID TO DO IT! – THE OPPORTUNITIES ARE LIMITLESS.
Whether you choose to continue your education, start a new career or add something wonderful to your life by working part-time, being a Divemaster is a very rewarding experience!
The Divemaster Program is your adventure into the professional levels of recreational scuba diving. Working closely with an Instructor, in this program you expand your dive knowledge and hone your skills to the professional level. Divemaster training develops your leadership abilities, qualifying you to supervise dive activities and assist instructors with student divers. Divemaster is the prerequisite certification for the on going experience into Assistant Instructor then on to the Open Water Instructor.
During the Divemaster program, you learn dive leadership skills through both classroom and independent study. You complete water skills and stamina exercises, as well as training exercises that stretch your ability to organize and solve problems as well as help others to improve their scuba skills. You put this knowledge into action through a structured internship or series of practical training exercises.
You will have a personal experienced instructor to oversee your training and be your mentor along with exposure to other instructors and dive masters, ensuring a varied and interesting training experience. In addition Robin, the executive partner of Bali Diving who is a former PADI district Course Director and SSI Instructor Certifier, works daily from the dive centre so is available for consultation and will be able to impart his pearls of wisdom from working in the dive industry for over 30 years. This all means that no other dive centre can bring this level of experience to the table.
Certified PADI Divemasters are authorised to:

Assist an instructor during the training sessions for any diver course.
Conduct the Skin Diver course and Discover Snorkelling program.
Conduct the Discover Local Diving experience.
Conduct the Scuba Review program.
If qualified as a Discover Scuba Diving Leader, independently conduct the Discover Scuba Diving program.
Earn the Digital Underwater Photographer Speciality Instructor rating to be able to teach the Digital Underwater Photography specialty.
Independently guide Open Water Diver course students on the tour portion of Open Water Training Dives 2, 3 and 4 at a ratio of two student divers per certified divemaster.
Accompany Open Water Diver students under the indirect supervision of an Instructor during:
Surface swims to and from the entry/exit point and during navigational exercises
When the instructor conducts a skill, such as an ascent or descent, a Divemaster can remain with other student divers (with an individual student or buddy team)
Accompany student divers during Adventure Dives or Speciality training dives under the indirect supervision of a Instructor.
Conduct subsequent dives under an instructor's indirect supervision for Discover Scuba Diving participants after participants have satisfactorily completed the first dive with an Instructor.
Organize, conduct and supervise recreational diving activities, both land and boat based.

Course duration


The duration of the divemaster course is largely upto the individual. We can offer a fast-track course which takes just 12 days and a 3-month internship. We can also offer any time scale in between these two including the popular 1-month internship. The only caveat to this is that there is a minimum of 60 dives required to complete the course.
Those wishing to take the fast-track approach will meet the performance requirements of the course but will gain little in terms of professional diving experience, and as such we recommend at least a month in order to gain more experience which is essential to develop as a trusted, competent Divemaster.
As one of Bali's busiest dive centres you'll have plenty of opportunities on our longer internships to experience real divers and students and with unlimited diving* during your internship you get more time to experience Bali's beautiful world-class reefs!
Course structure
You'll complete three phases in the Divemaster program:
Watermanship and skills assessment
Knowledge Development: Divemaster Role, Supervising diving activities, Assisting students, Divemaster-conducted programs, Specialised skills and activties, Dive theory, Dive environment, Dive safety, Business of diving, Emergency assistance plan for diving emergencies in the local area, Mapping a local open water site
Practical Application: This involves training activities using various structured training sessions, simulated scenarios and internship sessions with actual PADI programs. These training sessions enable you to gain practical experience as an instructional assistant and a supervisor of open water diving activities, both as a coordinator and as an underwater guide.

Prerequisities
18 years old
Advanced Open Water Diver (or qualifying certification from another training organization).
Rescue Diver (or qualifying certification from another training organization).
Emergency First Response Primary and Secondary Care (or qualifying first aid and CPR training from another organization) course completion within the past 24 months.
Have at least 40 dives to begin the course and 60 for certification.
Be fit for diving and submit a Medical Statement signed by a physician within the last 12 months.

What you'll get from the course

For those of you looking to join the leaders of the pack, look no further. The Divemaster program is your first step in the leadership level in the system of diver education. This rating denotes you as a person who:
Has a high level of personal diving skill.
Has instructor level knowledge of diving theory.
Has had significant training in how to assist an instructor during training activities.
Is able to assume appropriate responsibilities that benefit the welfare of other divers
Here's your chance to share your love of diving with others.